2nd security audit and Early Birds Galxe Campaign to access 🔥 APRs!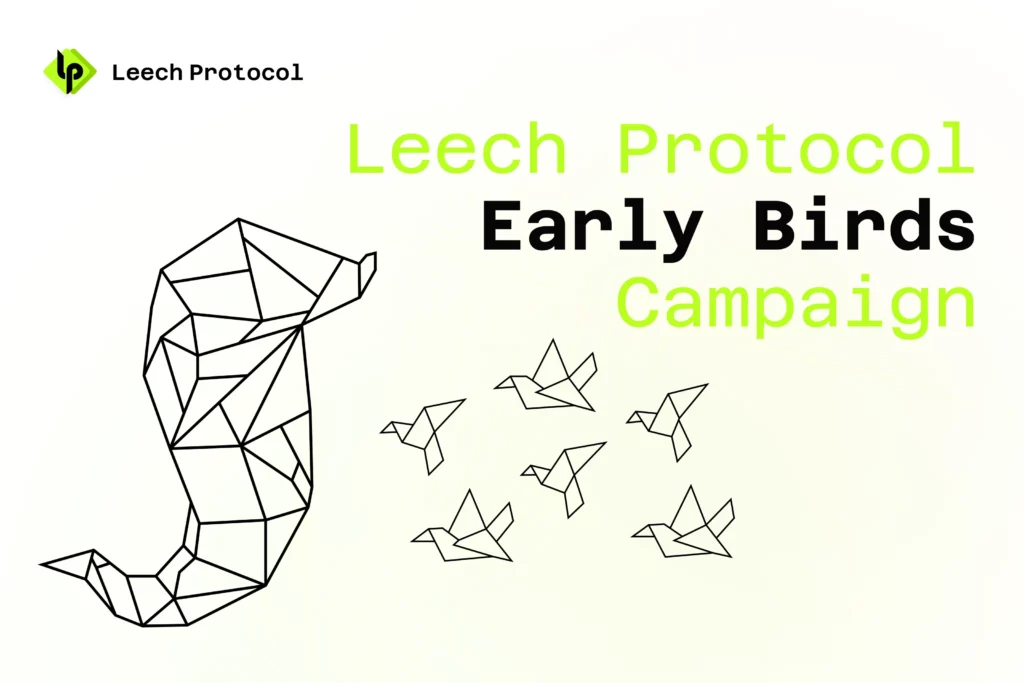 Leech Protocol Early Birds Campaign
Calling for all degens and DeFi enthusiasts! Leech Protocol is excited to share details about new security audit, highly-incentivized pools, and a new Galxe campaign to become whitelisted!
TL;DR: Leech Protocol is an app that provides a user-friendly solution for simplifying the yield farming process across all major blockchains and platforms. We automate user routines, automatically performing tasks such as swapping, bridging, depositing, and compounding when using our Mixed Pools!
Second Security Audit
Safety and security are paramount in the world of DeFi, and we're committed to delivering a trustworthy platform. We're proud to reveal that Leech Protocol has successfully completed its second comprehensive security audit. We scored 10 out of 10 points from Hacken auditor – which is a great result! You can learn more details here!
Private Yield Farming Strategies
While the concept of yield farming is familiar, Leech Protocol is taking it to a new level. Our team has been hard at work testing and refining private yield farming strategies that are exclusively available for our Leech Club members. This means that by being part of the Leech Club, you gain access to unique yield farming opportunities that are designed to maximize your returns.
Profit Sharing and Algorithm Expansion
In line with our commitment to community engagement, we've decided to allocate a portion of our profits to incentivize our public pools. As we introduce new platforms to our yield farming algorithms, this incentive mechanism will encourage liquidity provision at this intermediate step!
Increasing Maximum Wallet Allocation
We're pleased to announce that the maximum per-wallet allocation has been increased to $3000 for all whitelisted users. New users will have a chance to join via Galxe campaign below!
Introducing the Early Bird Galxe Campaign
To allow new users to join our community, we've launched the Early Birds Galxe campaign. This exciting initiative offers the chance to win and claim exclusive OAT tokens and experience APR rates ranging from 90% to 120% on the app. These exceptional rates will be paid out after 30 days of the upcoming hyper-incentivization epoch.
To join app.leechprotocol.com as a whitelisted user – you need to complete all steps on Galxe, claim OAT, and wait for Email-notification, that you are whitelisted to join the platform and you can provide liquidity!
As we look ahead, Leech Protocol is dedicated to pushing the boundaries of DeFi innovation. With security as our foundation and community empowerment as our driving force, we're excited to shape the future of decentralized finance, one milestone at a time.
Stay connected with us on Twitter for the latest updates, and join our Telegram chat in case you have a question!
Disclaimer
All cryptocurrency transactions, and especially those in the yield farming, including the Leech Protocol app and its announced Early Bird Galxe Campaign, involve multiple risks, including always the risk of losing all or part of funds used. You ****understand and agree that you use the Leech Protocol app at your own risk. You should therefore carefully consider whether it is suitable for you in light of your circumstances, experience and financial resources. You should be aware that you may sustain a total loss of your deposit while using our platform. You understand and assume this risk in full.
IN ANY CASE, WE DO NOT BEAR ANY LIABILITY FOR ANY OF YOUR ACTIONS OR INACTIONS, ERRORS, OMISSIONS OR MISTAKES, OR FOR ANY OTHER CIRCUMSTANCES OCCURRED IN THE PERIOD OF YOUR USAGE THAT LED TO THE FULL OR PARTIAL LOSS OF YOUR DEPOSIT.
Share: