Response to USDR Depeg: Ensuring Security and Community Trust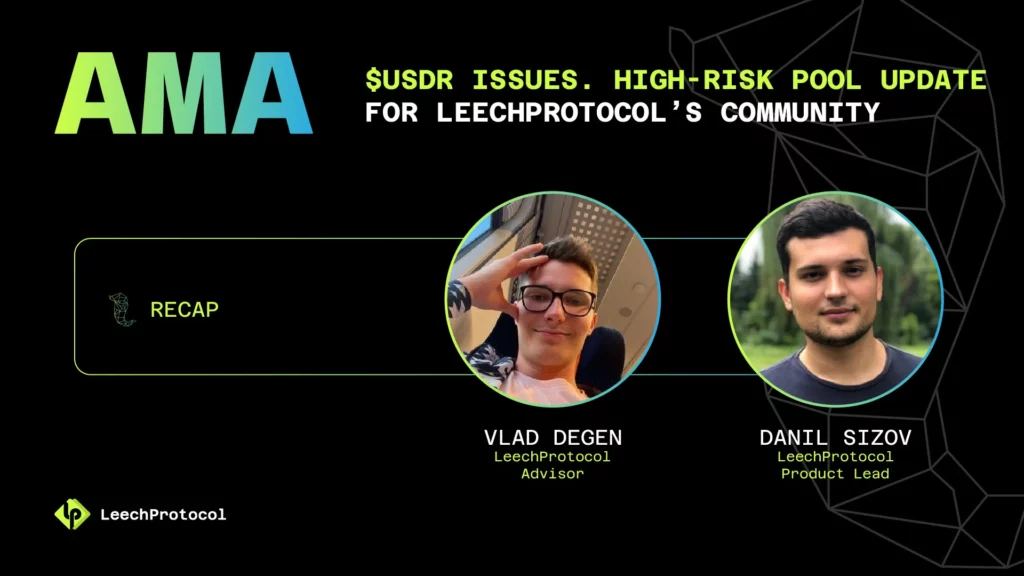 We want to update our community about the incident with the USDR depeg, our immediate actions, and our plans for product development.
Due to a series of events not related to LeechProtocol, USDR stablecoin was depegged by over 50%. This affected our high-risk pool integrated with the wUSDR-USDC pool on Thena. We have taken immediate measures, closing deposits for the high-risk pool to prevent further losses for our users. We have also communicated this incident through official channels.
Our response involved swift action. We closed deposits for the high-risk pool to mitigate additional losses for our users. Transparency remains our priority, and we have informed the community about this incident through official communication channels.
We advise all the users who provided liquidity to the high-risk pool to open the ticket in Discord and be guided by our support team.
It's important to note that only the high-risk pool was impacted by the USDR depeg. Our medium-risk, low-risk, and simple pools remain unaffected, as they are not associated with USDR.
Future Risk Mitigation Plans
Moving forward, we are committed to enhancing our risk management strategies. We are launching a new version of mixed pools, diversifying liquidity across multiple pools with varying risk levels. For example, a diversified mixed pool could reduce potential losses significantly in similar scenarios.
Additionally, we are developing an automatic risk-handling system. This system will monitor depegging incidents, provide rug pool protection, and track anomalous activities. If risky activities are detected, we will swiftly swap liquidity into stablecoins like USDC/USDT to protect our portfolio.
Recommendations for Future Risk Mitigation
We urge our community members to carefully assess their risk tolerance and have a robust risk management strategy. Thoroughly review protocol documentation, ensuring a deep understanding of the protocols you engage with. Early identification of potential risks and proactive mitigation steps are crucial in safeguarding your investments.
At LeechProtocol, your security and trust are paramount. We are dedicated to keeping you informed and safeguarding your assets. Thank you for your continued support and trust in our platform.
What should you do next?
Share: